Called to diagnose problems with an old Philadelphia Gutter (or Yankee Gutter as it is known in some circles) we were excited to find this gem on Knights Rd. in Philadelphia. Our clients decided to restore rather than remove the historical Yankee guttering on this old farmhouse. The Yankee gutter had failed and rotting wood was evident on the cornice work below. What would have been a Yankee Gutter Restoration (or Pole Gutter as it is also known) became an historical adventure for our Restoration Crew.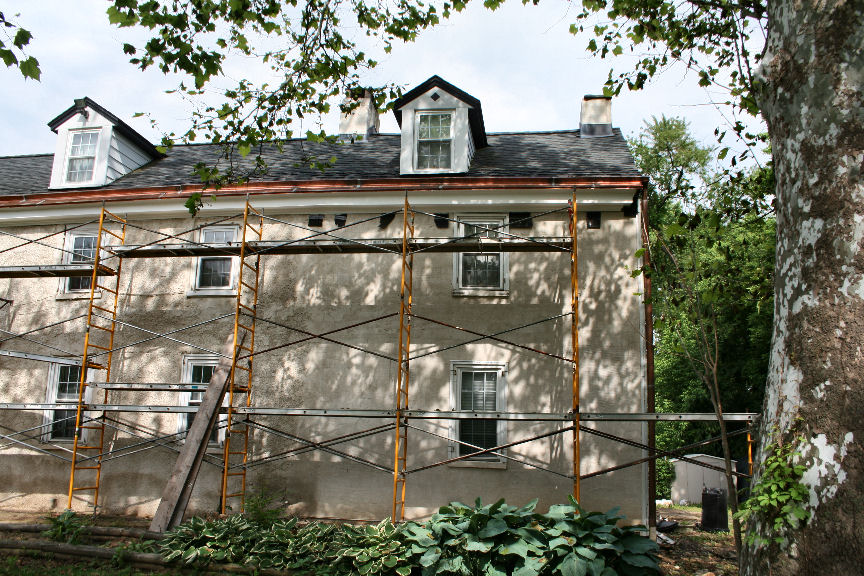 The home located on Knights Rd. in Philadelphia (off Woodhaven Rd.) was the first home on that road. Dating back to the early 1700's (original section), this home had seen many years come and go and our work even caught the attention of the local Historical Society.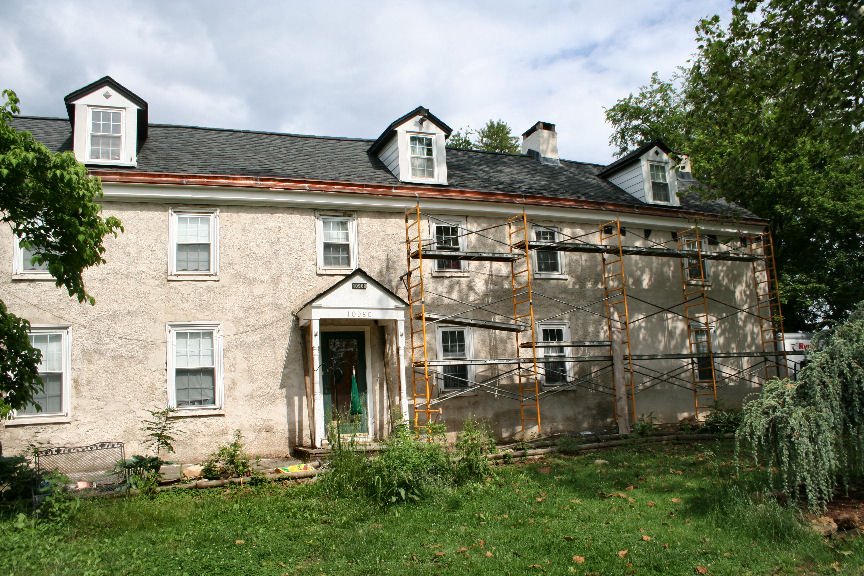 The home dated back as far as 300 years and it was the first and original house on its street. What we had was a historical landmark of its time, not currently listed as such, but for at least the sake of nostalgia. The home had seen many changes over the years and we were happy that our clients decided to restore the Yankee Gutter, as it stands as an architectural statement. To see beyond the quick fixing and butcher works of today and want to preserve the age of the home and it's period accuracy, we knew our clients were respective of yesterdays old world crafts.
| | |
| --- | --- |
| | The mason working on the old stone walls applying stucco to the structure had stopped work because of the rot from the old deteriorated guttering that was apparently causing structural damage. The Yankee Gutters added sometime in the 1800's were old Terne Coated Steel and then had been covered in asphalt by a ?roofer,? had seen better days. |
Removal of two layers of the old steel (known as Tin) yielded a series of layers from prior cladding. The existing Cedar had been covered with a layer of Terne Roofing and the top layer of metal gutter was incorporated into that layer of roofing. This was probably done in the 1940's. The metal layer beneath was probably done in the 1800's along with the Cedar. A new dimensional lumber Pole (1-1/2? x 3-1/2? 2x4's) was replaced at some time without complete gutting of the system.
The result was an improperly pitched gutter that held water and precipitated the leaking that lead to the rotting of the wood cornice details and one window header. Of course, the top layer was by novices that had installed plywood directly over the metal and then banged on asphalt shingles followed by muck (asphalt roof cement) and rolled roofing on the Yankee Gutters.
The scope included complete Yankee Gutter and Cornice Restoration for this old home in Philadelphia, Pa. This is a work in progress for our clients, who have a vision to restore this home of simple elegance. Even though several applicators have had their day at destroying what was original, the tide is turning because of our clients' vision and the Old World Craftsmen of this company.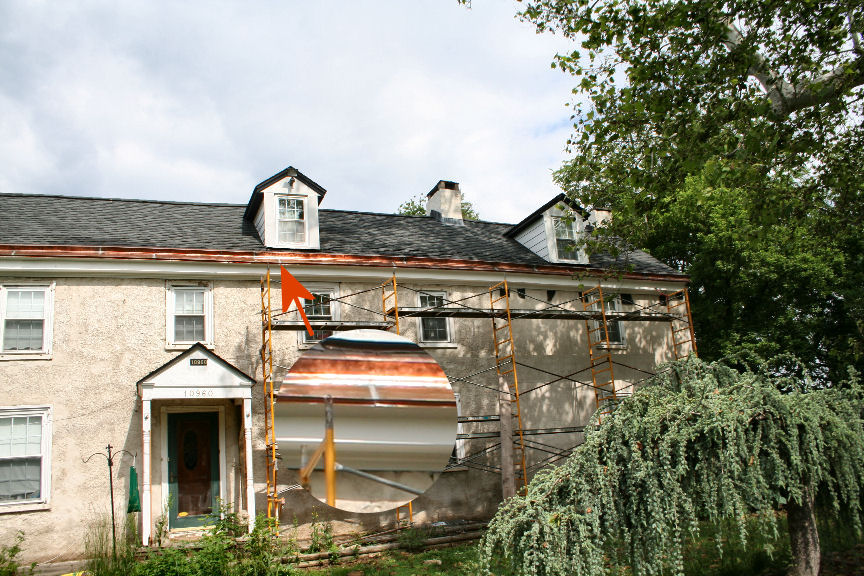 The job went without change orders and as planned. The wood rot was included and completed on time and on budget. This is no small feat as change orders are commonplace in our industry. In these modern times, it is hard to find a contractor that can handle custom cornice details including new Crown Moldings, Fascia and Soffit and Professional Painting, along with the Roofing elements. We removed the old ratty cedar and wood, but preserved the old growth wood that was salvageable. There is nothing in this world today that can compare to Old Growth Wood (as we have stated many times on this website).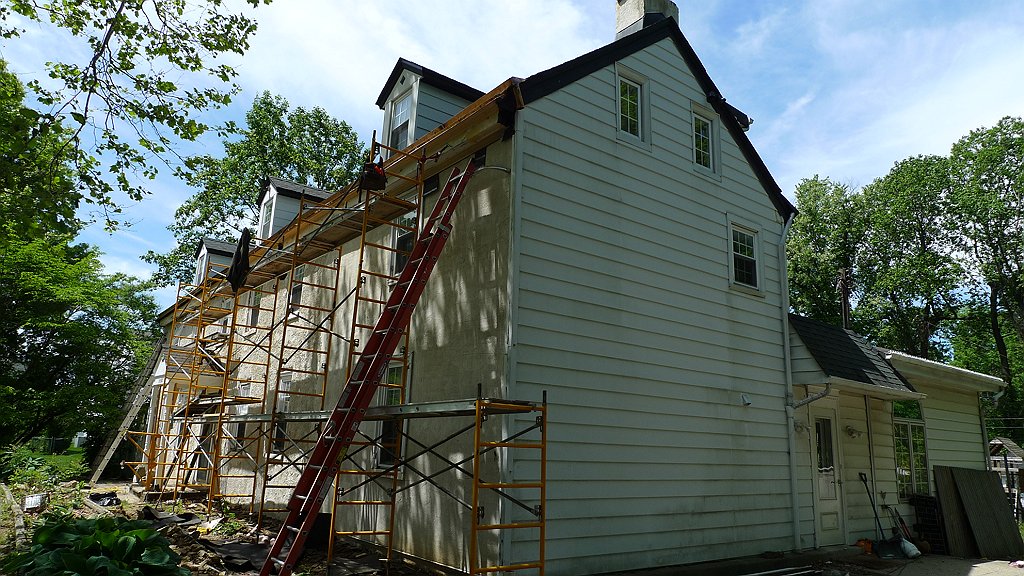 We repaired the rotting window header which was attached with original mortise and tendon (original) joints within the framing. The ponding water above from the sagging gutter had been relentless in soaking this area. Even can succumb to rot when it is constantly saturated. (Read more about the formidability of Old Growth Wood even when exposed to the elements for hundreds of years - Search Google for: "Old Growth Wood is many more times durable than New Growth Wood")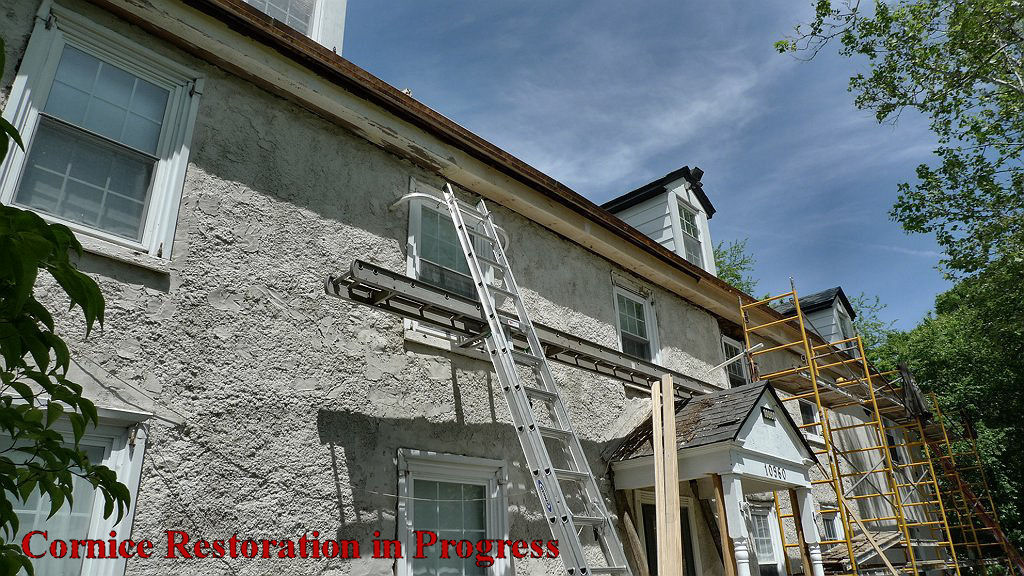 The Gutter Belly was job formed from Soft Copper because (as we have stated before on this website - Do a Google Search for more information on "Soft Copper Yankee Linings") this material performs better then hard Copper. When hard Copper is used, the thermal movement of the metal is concentrated along the longitudinal bends and the Soldered Seams will split from the stress (as stated before on this website). Soft Copper tends to ?roll? as it moves through its temperature changes, preserving the integrity of the Soldered Seams.
We thank our clients and salute them for turning the tide of shoddy inexperienced patching work, so that this home can be a statement as our Copper Yankee Gutter moves through its seasonal patina changes on its way to the blue-green verdigris of aged copper.