2011: Over 35 Years of Service to the Low Sloped (or Flat) Roofing Industry
Since the "Cool Roof" bill signed into law by Mayor Nutter in 2010, the idea of making the black roofs of Philadelphia "Cool Roofs" has really taken hold. The typical black flat roof in Philadelphia and anywhere for that matter, absorbs most of the heat radiation from the sun. The roofing systems not only degrade and dry out faster, but the buildings under these flat roofs become burdensome to cool with air conditioning. With electric costs growing, it only makes sense to apply "Cool Roof" systems. The best part of idea is that applying a "Cool Roof" system is inexpensive as long as the substrate is viable.
The White Elastomeric Cool Roof systems are best for heat reflection on flat roofs. The plan for Philadelphia is to reduce energy consumption (for the city) by 10% by retrofitting 15% of the city's roofs by 2015. Those numbers are staggering! The city of Philadelphia plans to become the greenest city in America by making the rooftops white.
The life extension of the roof life is a real plus as keeping up on the "Cool Roof" coating can easily double a roof's life. Call us today for a free evaluation and estimate.
Join The City of Brotherly Love's "Cool Roof" project.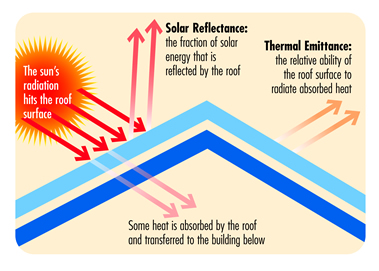 Cool Roof Technology can be used to repair, recoat, lengthen life cycle and cut air conditioning costs.

Serving Philadelphia and surrounding area:

Cool Roof Coatings can extend the life of any type of flat roof.

Commercial Roof Repairs with the Cool Roof System:

To the right: Efflorescence on the face and roof sides of the building at Levine Funeral Home in Feasterville, Pa.(near Philadelphia), before Cool Roof Repairs.
To the right: EPDM Gussets on Portico on Levine Funeral Home in danger of failing and replacement costs would have been expensive with all copper roofing having to be removed. Man made (concrete) Cap Blocks were beginning to fail.
To the right: After Cool Roof Repairs to both sides of Portico gussets.
To the right: After Cool Roof Repairs. Repairs are mechanically correct with proper laps and edgings. Cap Blocks are sealed and leaching and leaking problems are repaired with the Cool Roof System.
PROFESSIONAL ROOF COATING AND REPAIR BY A CONTRACTOR WITH 35 YEARS OF EXPERIENCE. WE WARRANT EVERY JOB. SOME CONSIDERATIONS MAY APPLY FOR DURATION OF WARRANTIES. PLEASE ASK YOUR ESTIMATOR ABOUT OUR FREE SERVICE WARRANTY.