The newer contemporary Standing Seam methods are fine for shopping centers and commercial cladding, but for older homes that beg for hand fashioned metal, no cookie-cutter commercial metal fabrication will suffice.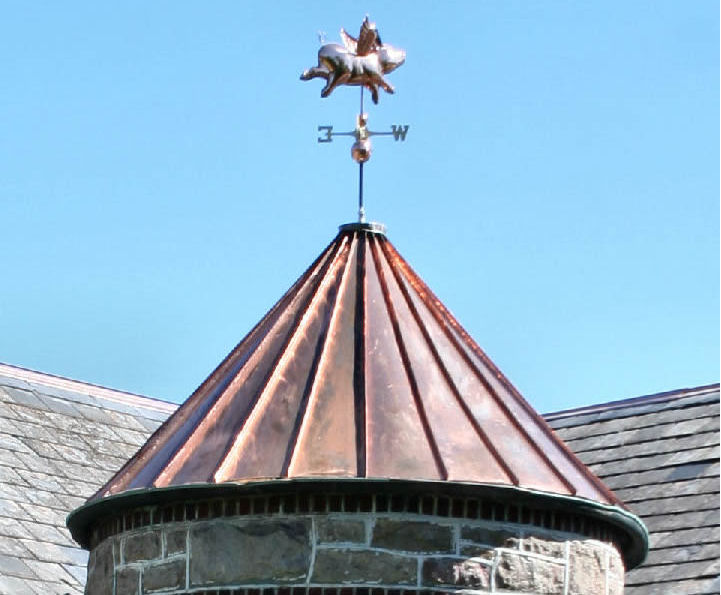 (Above) Copper Turret installed after tree damaged original Copper Turret in Bethlehem, Pa.
| | |
| --- | --- |
| | This page highlights a porch roof completed in Newtown, Pa. The same site as the copper dormers done a few months earlier (Shown in image to the left - Click for access to the dormers' job story), this matching standing seam copper roof on a lower porch was the right cladding choice for this historic property. |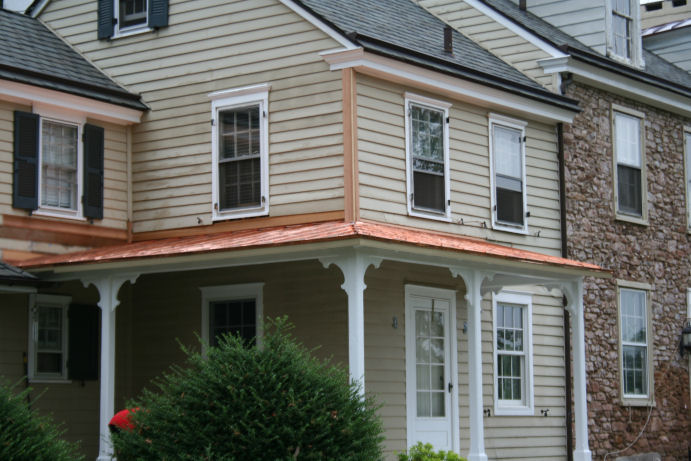 Copper was chosen because of its permanence and lasting beauty. Copper, long known for its anti-microbial qualities, also develops a beautiful patina that protects the metal from sulfides in the atmosphere. Some have over accentuated this phenomena but it is not as prevalent as claimed. Copper is the metal of choice for long lasting metal cladding.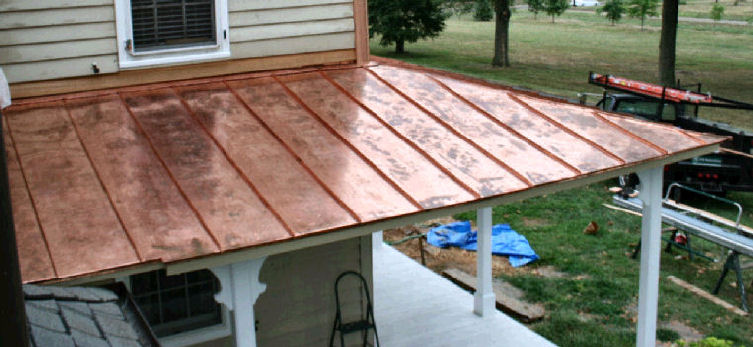 Using like metals such as copper nails on copper cleats is imperative as using metals of dissimilar nobility will ultimately cause failure of a metal roofing system. See our page on electrolysis. Believe it or not, the mistake of mixing metals is common in the industry.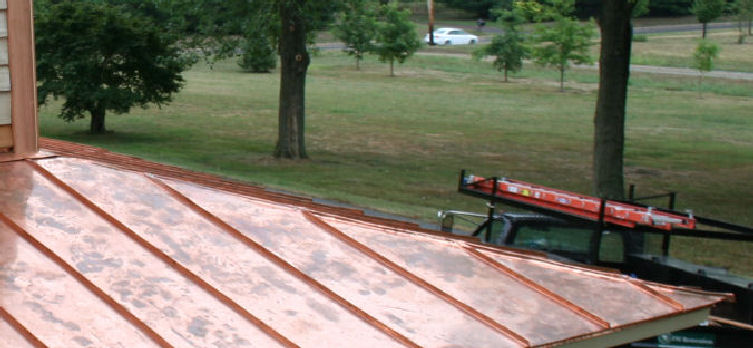 Hand forming of the details presents many of our industry contemporaries with challenges that are insurmountable for them. Surface mount flashings and clunky details are often passed off for real and authentic, hand formed metal roofing. Not only are the aesthetics an issue, but wind blown rain can enter beneath these open details.

As a general rule, a 3 inch rise per foot slope is the limit for standing seam metal roofing. This job in Newtown, Pa has a nominal 2-1/4 to 2-1/2 inch rise per foot. The small size of the roof planes combined with the negligible amount of possible runoff from adjacent roof areas above allowed for the standing seam option to be a viable one for this installation.
Copper Standing Seam Roofing done in authentic style affords a beauty unsurpassed by any option available in today's roofing marketplace. Copper was used by the affluent in days of old but cost was not the only factor in the choice of copper.

As mentioned above, sulfur is an enemy of copper, along with certain tanic acids from wood roof runoff. See our page on cedar roofs and copper flashings. Anthracite coal was used for fuel in heating many of the historic homes and copper was passed up for Terne coated steel flashings. The old world craftsmen knew best and following the tradesmen of yesterday affords knowledge no textbook can offer.
Today, few heat with coal and copper is used to replace the old ferrous metals on natural slate and tile roofs of yesterday. Copper is the metal of choice for the discerning property owner and old world craftsmanship is imperative as today's marketplace of ideas is dominated by contemporary thinking that the installers of today often follow to ends that are not flattering.
"I am very pleased with the job they did. Work was completed on time at an excellent price and with close Attention to detail. They also Specialize in Slate Roof repairs as well as other Old House type restorations.
If looking for quality craftsmanship with unbeatable prices, I Highly recommend this company."
-----MS - Newtown, Pa.
| | |
| --- | --- |
| | On Low Sloped applications, Flat Seam Copper Roofing Pans are soldered together (as in the photograph to the left of a Copper Portico Roof in Milford, NJ overlooking the Delaware River). |
BEFORE
AFTER
Find more Copper Bay Window Photographs in our Photo Gallery section..
Before
After
---
---