Metal moves with the environment, so do not try to "Nail it Down."
Environmental effects on construction metals result in failures of some of the most critical elements of the external flashings and cladding, which then threatens drastic consequence on the structure and interior of the buildings on which improper techniques were employed.

Every material has limitations and metal is no exception. The limitations of metal flashings, cladding, and sidings are dictated mainly by the inherent properties of each metal. Interaction between the metal and the environment must be predetermined.

Trade standards are being stretched by new engineered products and methodologies. Prefabricated roof panels, for instance are now engineered in very large lengths, but with "free floating" blind fastening that allows for expansion and contraction.

Field fabrication is still required on every job, at some point. The intersections of roof valleys and wall flashings are most critical and many times these areas fail from poor application methods. Improper fastening is one reason for over-stress of metal products in construction. Most often, it is the field fabricated element that will fail.

Gutters are particularly problematic and provision for movement must be incorporated into the design.

See Youtube Videos by Bob Wewer on Built in gutters and expansion joints.

Below is a chart that shows the expansion rates of some of the common metals used in the industry.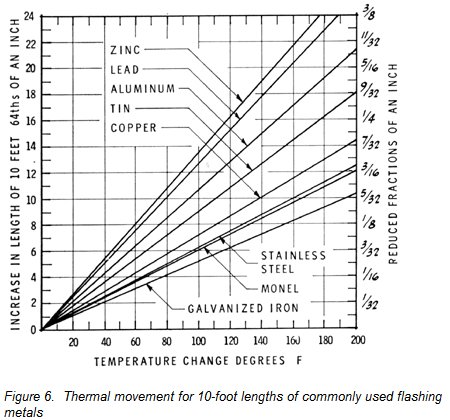 THERMAL MOVEMENT OD COMMONLY USED CONSTRUCTION METALS