2016: 38 Years of Service to the Commercial Low Sloped (or Flat) Roofing Industry
| | | |
| --- | --- | --- |
| Principals of FSI Restorations, LLC. having been established with a track record of success in low sloped roofing were chosen to be of the first certified for the installation of Modified Bitumen Commercial Roofing Systems in 1982. Among the first of the American Companies, at that time, to be factory certified Nord Bitumi, Inc. installers, a direct and licensed manufacturer from the originator in Italy, we have installed many thousands of squares of all versions of Commercial Single Ply Roofing and we have the experience to install the products properly, exceeding manufacturer guidelines. | | Philadelphia is full of multiple layered Low Sloped (Flat Roofs). Sold as "Rubber Roofs," APP Modified Bitumen (MB) installed with a torch IS NOT RUBBER. This is a lie! It is modified asphalt. In fact it has no rubber in it! Warranted for 10 years, it must be coated with reflective coating evey 5 years in order to protect it from UV rays. If you are purchasing a "Rubber Roof," you should receive a real Rubber Roof. |
| | | |
| ROOFS COLLAPSE UNDER HEAVY SNOW: Unscrupulous Contractors install Cheap and Dangerous overlays (more than 2 layers) increase weight, trap moisture and cause problems. They tell you you are getting a "rubber roof" while installing a cheap MB overlay. These installations begin to fail on day one, with trapped moisture, pressure and rot from beneath the the roof. We have removed as many as 10 saturated layers, a foot thick weighing over 20 tons on Philly Row Homes! Do you really want that much weight over your head? | | You need to completely remove the old layers, repair the damage and get a 30 year warranty on a real Rubber Roof. |

EPDM Rubber Roofing is our specialty. We remove the old wet layers and fix damaged substrate. We install new insulation, tapered where needed and install .060 EPDM Rubber Roofing. This type of roof can be coated (not necessary) with a white impermeable (zero perm rating) coating (after weatherization, that will ensure a lifetime roof! Lifetime - doesn't that sound like a roof you would like? The best roof for the money with a track record of over 40 years.

·No more calls to roofers that try to patch up failing multiple layered, overloaded, moisture saturated, mold infested rooftops!
·Real Rubber Roofing that is light weight and that lasts for the rest of your life.
·Peace of Mind knowing that whatever the weather - you are protected.
·No worries from snow load and roof collapse as all the old built-up overlays are removed.

Roof Leak* Mold* We will clean it up for you!
Mold Remediation Philadelphia
| | |
| --- | --- |
| | COMMERCIAL ROOFING REPAIR & RESTORATION: Ask About our commercial Low Sloped maintenance and restoration programs. We can increase the low sloped or "flat" roof life cycle while decreasing the energy bill by lowering air conditioning costs! The old black, EPDM Runner Roofing, Built-up Roofing, Mod. Bitumen commercial roofing is inefficient! Save on replacement costs. Save on energy bills. Let's build a relationship whereby we can help you achieve your property management goals. |
FIBERGLASS ROOF DECKS installed by roofers, not surf board or boat guys.
Philadelphia: Roof Coating and Repair saves money on replacement costs and cuts energy bills.
Philadelphia: What many call "Rubber" is not "Rubber Roofing!"
Basic Asphalt Modifiers and the products:
Modified Bitumen membranes were first developed commercially in the 1960's for water aqueducts in Italy. It seemed if these products worked well to hold water in aqueducts, that they would certainly work well on commercial rooftops. As stated above, FSI was on the cutting edge then and experience has paid off not only for us, but for our clients.
APP Modified Bitumen is modified with plasticizers of Atactic Polypropylene. Materials are typically applied by heat-welding the material and seams with a propane torch. The material comes both smooth and also with a granule surfacing. This commercial roofing material is not compatible with all petroleum-based products, greases and oils. (So the very common mixing of Asphalt Roof Cement on the Edgings should be checked to make sure that the two products are compatible.)
Asphalt was modified with plasticizers in the original APP versions and rubbers in the later SBS versions. This APP science quickly moved to the United States in the late 1970's to take a share of the roofing membrane market. The introduction of the blown polyester mat reinforcement gave the products formidability under adverse conditions. SBS moved in shortly after for commercial roof asphalt mopped applications. These high quality, prefabricated rolls eventually eliminated the need for hot tar kettles. These materials were able to be applied on the vertical for wall flashings eliminating the use of inferior products for parapet wall flashings.
This all spelled versatility and much less labor for commercial flat roof applications. The APP marketplace soared as the membranes installed in a single ply and proved to be tough and long lasting. These materials enabled many roofers to send smaller crews to complete larger jobs installing them with a simple heat element.
The modified asphalt has elongation and recovery properties which make it better suited for the intense commercial rooftop environment. The stability of these roofs through their life cycle has been proven and maintenance is a simple re-coat every five years with an aluminum fibrated roof coating (to reflect the ultra violet rays of the sun). The fact that these roofs are very stable lends to their ability to withstand wind uplift as well as temperature fluctuation. Some of the newer offerings offer increased fire resistance.
SBS Modified Rolls are modified with rubbers are called SBS rolls (styrene-butadiene-styrene). This copolymer is added to produce a commercial roofing roll that is compatible with petroleum products, thus allowing it to be applied with adhesives and mastics or even applied by heat-welding. SBS rolls are also used in hybrid roof systems; where a combination of built-up roofing and modified materials around penetrations and curbs may be used.
SBS (Styrene Butadiene Styrene) is a thermoplastic rubber. SBS is a copolymer that is used in bitumen modification. The installation of these products can be burdensome to the contractor, as they usually require the use of mopping asphalt, or adhesives. The esthetical value of completed SBS roofs has proven a detriment as the black ooze that emanates from the seams is an unsightly detraction from an otherwise, viable roofing systems. Until the introduction of the new prefabricated self-adhered systems:
Certainteed SBS 3-Ply Commercial Roofing System: Flat Roof Job Photos
Commercial: Premium performance in a white roof * EPDM

* Durable systems designed for maximized roof lifecycle.

* White membranes reflect sunlight and cool building interior for energy savings.

*

Flexibility and physical integrity to resist cracking after prolonged exposure to minus 30*F.

* Strength to defy uplift damage or delamination from strong winds and highly tear-resistant yet easy to repair or add new cutouts.

*

Minimal shrinkage, a major factor affecting membrane performance and longevity.

* Mechanically Attached and Fully Adhered System Specifications.

* Membrane meets or exceeds ASTM performance standards.


Reinforced white PVC - .050 & .060 & .080

* Specially designed with weft-inserted polyester knit fabric, not merely a loose scrim supported sheet. Even when punctured, the fabric is engineered to "rope up" and resists tearing for superior durability with excellent abrasion and puncture resistance.

* Weighs less than 1 # per sq. ft. yet highly resistant to wind uplift

* Resistant to fire & fungus, ozone & UV

* Can be installed during winter months

* Ideal for new construction and reroofing

* Reinforced membrane easily handles building thermal expansion & contraction
WATERPROOF TRAFFIC MEMBRANES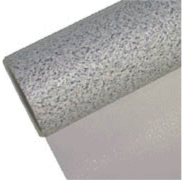 Traffic Warranted - Walkable Membrane PVC.
"Stain is a Pain, Vinyl is Final" *
Maintenance Free Roofseal and Deckseal PVC.
Pedestrian traffic solutions are easy with Dec-K-ing* PVC. Eliminates the constant maintenance of staining. Dec-K-ing* membrane and aluminum railings can be applied to almost any existing surface, including wood, concrete, and fiberglass. It can be used directly over living areas. With over 20 years of performance, millions of square feet have been applied for sundecks, patios, balconies, roof decks, boathouses, and garage decks.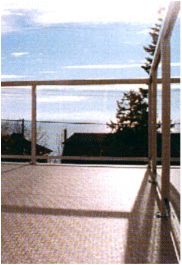 .060 (Oyster, Almond, Granite)
* Same functionality as DECKSEAL but thicker mil for commercial high traffic areas & roof decks
* Durable - Ideal for high traffic roofs such as roof decks, boathouses, garage decks & decks in Sunbelt where high UV protection is needed
* 10 year material warranty


ALUMINUM RAILING SYSTEMS, 42" finished height
* Maintenance free railing systems with glass or picket styles
* No rusting, no re-painting
* Ideal for sundecks, balconies, pools & stairs

Few field seams with 6' wide x 75' or 600' roll sizes. Seams hot air welded or chemically seamed. Dec-K-ing Systems install quickly and economically in new installations as well as add-on & retrofit installations. Fully adhered using approved adhesives.

Energy Efficient & Cool - The white PVC sheet reflects the sun's rays to keep sundecks, stairs, and walkways cool.

Environmentally friendly - install over existing layer to reduce demolition waste.

Maintenance Free - Requires only bristle brush, light detergent to clean.

Strength - A PVC membrane reinforced & laminated to a polyester fabric mat through a heat process provides durability plus UV, mildew & salt resistance.

Flexibility - 100% expansion factor allows for expansion & shrinking caused by the variable elements of weather and the element of lumber drying.
PVC membranes are the product of choice for areas requiring a waterproof walking surface. Both decks and roof decks (a flat roof used as a leisure area) are the most common uses for the product. PVC membranes offer many features that traditional deck alternatives cannot. PVC membranes are maintenance free; once a deck is installed no yearly upkeep is necessary. The surface is mildew & salt resistant, and contains U.V. inhibitors. The membrane will never crack or rot. Available in different colors and textures, PVC vinyl will enhance value and add beauty to any deck while complementing the building. Most importantly, PVC membranes are completely waterproof, protecting the area underneath from the damaging effects of water.
PVC vinyl membranes are manufactured by laminating two layers of PVC to a polyester mesh. The result is a strong and durable product that will protect a deck or roof deck for years. The products are designed for all climates, and will expand and contract with the temperatures as needed. In the southern hemisphere where the UV rays are stronger then North America, PVC installations continue to *hold up* after 10 years. PVC installations completed as long as 20 years ago in the cold climates of Eastern Canada and Alaska have also met the test of time. The products are approved for use over living space as a roof walking surface, complying to building codes in the United States, Canada, New Zealand and Australia.PVC membranes can be installed on most decking surfaces including wood, concrete and fiberglass.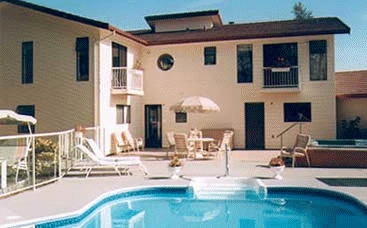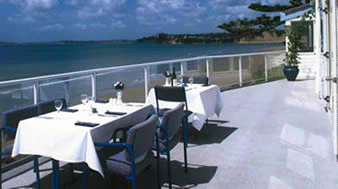 Sundecks

Patios

Boathouses

Commercial Walkways

Wheelchair Ramps

Garage Decks

Roof Decks



---
Commercial Roofing:

The EPDM Systems you need from the people you trust.
* Fully Adhered, Ballasted, & Mechanically Attached System Specifications.
* Membrane meets or exceeds ASTM performance standards.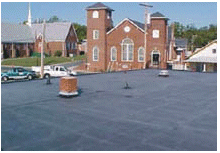 Non-Reinforced Black EPDM .045
* The most economical singly-ply membrane
* Ideal for ballasted systems
Non-Reinforced Black EPDM .060
* Ideal for fully adhered systems
Reinforced black EPDM .045 & .060
* Reinforced with tough polyester fabric for superior fatigue, tear, & puncture resistance
* Ideal for mechanically attached systems
White-on-Black Non-Reinforced EPDM .060
* Reflects the sunlight & cools the building interior - leading to lower BTU usage and energy costs
* Fully adhered application is required
---
The "Affordable White Roof" *

TPO Systems.

*

The performance or rubber with heat- welded seams

* The weathering and low temperature flexibility of EPDM with the superior seam strength of heat-weldable membranes

* White membranes reflect sunlight for cooler building interiors and for energy savings.

* Wide sheets mean less seams and less labor compared to standard PVC sheets.

*

More product on top of the scrim where you need it most - one of the thickest top plies in the industry.

*

Minimal shrinkage for watertight integrity you can count on.

* Mechanically Attached and Fully Adhered System Specifications.

*

Membrane meets or exceeds ASTM performance standards.
Reinforced TPO (white) .045", .060", & .080"

*

Thermoplastic polyolefin based for superior strength and weatherability

*

Lightweight yet highly resistant to tears, impact, punctures, & wind uplift

*

Ideal for both new construction and reroofing/restoration

*

Reinforced membrane easily handles building thermal expansion & contraction

*

Minimal shrinkage - ideal for mechanically attached or fully adhered systems

*

Environmentally friendly - no chlorine, recyclable
•Asphalt Roofing •Rubber Roofing •Single Ply Roofing