WE RESTORE COMMERCIAL ROOFING TO LENGTHEN LIFE CYCLE WITH OUR ELASTOMERIC COATING AND REPAIR SYSTEMS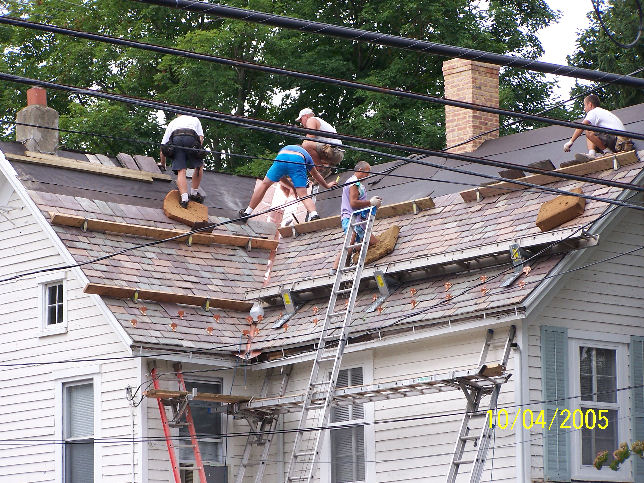 Slate Roof In Progress
White Cool Roof Coating

Energy Savings

Roof Longevity

VIDEO: Copper Clad Rubber Roof Philadelphia

Philadelphia: Rubber Roofing does not have to be ugly.

Old Fashioned, Hand Formed Tin Roofing, Yardley, Pa.

Terne Coated Steel by Follansbee

| | |
| --- | --- |
| | Copper Roofing, Newtown, Pa. |

Copper Dormers - Standing Seam
Many More Photos and Information are Contained on this website. Start on our homepage.
Philadelphia is plagued with shoddy fly-by-night flat roofing companies looking to make a quick buck on unsuspecting homeowners. We have an answer to your dilemma!
After the job is done, will the contractor come back if there is a problem? Is there a written warranty on workmanship? Truth be known, very little coverage is afforded on small jobs by the manufacturer and most complaints result from workmanship errors. The best warranty coverage is that of the seasoned and reputable contractor standing behind his work for the small row homes of the city. The manufacturer warranty on small jobs will, at best, only cover a material related problem. The best warranty is one from the contractor guaranteeing free service and coverage regarding advocacy with the material manufacturer to facilitate results in the event of roof problems down the road.
Many times deficits can be repaired and the roof life cycle of a given roof can be lengthened. We have many repaired commercial roofing projects where we have and made roofs better through the bolstering of details with our restoration process.
30 Year Warranty on Flat roofing in Philadelphia
Just a quick search on the internet will yield a torrent of complaints of roofing breakdowns at eave boxes and the like. These details are critical and very difficult to rectify and retrofit after a new roof job is complete. One such complaint on the internet can ruin a company's reputation in an entire city like Philadelphia. It is said that the "Devil is in the details." That cannot be said better here, but with flat roofing in Philadelphia, the details will make or break a new roof.
Twenty Year Flat Roof Warranty! We are offering a twenty (30) year warranty on Flat Roofing. We are doing this because as a contractor of over 35 years in the business (as of 2011), we are tired of visiting the homes and business of consumers that have paid good money for a patch job that began leaking shortly after the check cleared. We are offering 30 year warranties on our Affordable Solution for your flat roofing needs!
Because major manufacturers are not offering extended warranties on small flat roof jobs, we are answering this need in the city of Philadelphia for flat roofing! We are offering a (30) Twenty Year Warranty on Flat Roofing in Philadelphia! Our warranty includes free service.
Our Warranty Covers You For 30 Years!
What other flat roofer in Philadelphia is offering a warranty for 30 years? Get the best flat roof for the money by calling us today. We will visit and provide you with a comprehensive estimate, with a set price and without any pressure to buy from us! High pressure sales tactics are unethical. We hate high pressure sales! We ask you to call our competitors first! Then give us the chance to speak with you and describe our way of doing business.
Although APP Modified Bitumen is often referred to as "Rubber" Roofing, there is no rubber in it. The same band of fly-by-nighters that refer to APP Mod. Bit. as "Rubber Roofing" are the same guys that know how to make a quick buck and cut corners on a job.
This roofing system is the toughest and most effective type of flat roofing and it is also the most affordable. You must deal with a reputable firm that stands behind its work. We do just that for 30 Years! Your warranty is transferable and represents a true value.
SBS Modified Bitumen is asphalt but has rubber modifiers but it should not be called "rubber roofing" either. This is a softer material and not always a favorite in the marketplace.
So, what is often sold as "Rubber Roofing" is not rubber at all! We also install real rubber roofs, like EPDM, which is real rubber and must be isolated from existing asphalt altogether.
Call today to find out about the answer to the flat roof dilemma. Ask for a free COOL ROOF Repair and Coating Evaluation.
For low sloped applications, you have to start with quality products that you know will last.
Certainteed SBS 3-Ply Roofing System Job Photo Page
EPDM